Wow! What a bus... makes me really want to get out and work on mine!!!
---
Thanks Russ.
Keep going mate. Will all be worth it when it's finished.
---
Great work, and very impressed with the interior.

Nice having the use of the workshop.
I had a metal work teacher at school who restored E types, although they were relatively cheap back in the 80s, I think I helped with machining parts on at least 2 dodgy restos. (I say dodgy because I was involved)
Nothing like your quality of work.

It's the first time I had seen your thread.
I was playing with vw-mplate.com and put in your details from one of your first posts, it's odd as 130 says it's for a deluxe with sunroof and roof windows?
Is that just an anomoly with a deluxe, I had a 13 window but can't remember the m code.

62 Double Door


---
Haha, thanks. It's much appreciated.
It was very handy being able to use the workshop. Especially as it's free for 6 weeks in the summer.
Not sure about the mplate decoder? It's definately a 13 Window Deluxe? Think it's possiby one of the oldest if not oldest one knocking about.
Unfortunately, I can't find any history on it.
Still, it's being used hail, rain or sunshine
---
Just read the whole thread blinking awesome bus Jim. How clean and shiny did you get it all before paint crazy, but so impressive it's mint.
Always lurking here somewhere
---
Yeah. 13 Window models were special order Samba's (Deluxe Microbus 241/251) with the sunroof/skylights ommited. (130) Not 100% sure, but I think 13 Windows are rarer than 21's. Though propably not as sought after. (I'm sure someone will correct me if l'm wrong)
---
M-Plate content
Model Type 2 (T1) mod. 241 :
- Microbus Deluxe
- 8 seater
- Cargo doors right
- Full middle seat
- LHD
Chassis number 1153588
Serial number 241153588
Modelyear 1964
Planned production date August 17 ,1963
Paint color
Color upper part : L289 - Blue White
Color lower part : L380 - Turquoise
Interior color (doorpanels and seats) 81 - Como Green
Destination USA, Los Angeles



M-CODES
M-CODE Description Concerned models From chassis number To chassis number
025 US-spec bumpers and 6 pop-out windows -
025 Mountinf for safety belts -
114 6 popout side windows -
130 Microbus Deluxe without sunroof and roof windows Deluxe
425 North American export package including :
- Twin reverse lights
- Compteur en Miles
- Sealed beam headlights
- Hazard warning lights
- Mounting for safety belts in driver's and passenger's compartment
- Laminated windscreen
- Ram protection (bumper with guards)
- Dual-circuit brake system -
---
---
Thanks Bubbla
---
Pretty much there now, had to get an interior made as I haven't your skills but helped a lot in the engine build and well pleased with that. I should update my build thread really.

Grant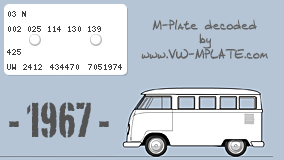 ---
Look forward to seeing it finished.

Just waiting for a new Engine for Dave.

Don't think Vans ever get finished. Always something to do!!!
---