A bit late posting but after getting some abuse from my good friend (aka Choc) about my lack of posting I have finally got around to it.
So after years of saving and admiring other peoples vans, the dream is finally being lived. Due to my grandma passing away last year we were given a small amount of money which finally took us over the threshold of being able to buy our first van and we were no longer just window shopping.
So the hunt began and after many late nights on the internet and follow up phone calls, that good mate (Choc) sent me a late night text regarding a van which had just come up for sale in the Buses For Sale section, being sold by a guy called BrianJBox over in Lincoln which might just about fit our budget and be the type of van we were looking for. However no sooner had we logged on, the SSVC website had crashed
and I couldn't find the advert, however after much searching we found ETL 58C on Vzi (sorry
).
Arrangements were made and we headed off to a very cold and wet Lincolnshire coast on the first weekend in January, as we pulled around the country lane just before Brian's house we could see (Lola - my seven year olds new name for our bus) sitting very pretty indeed.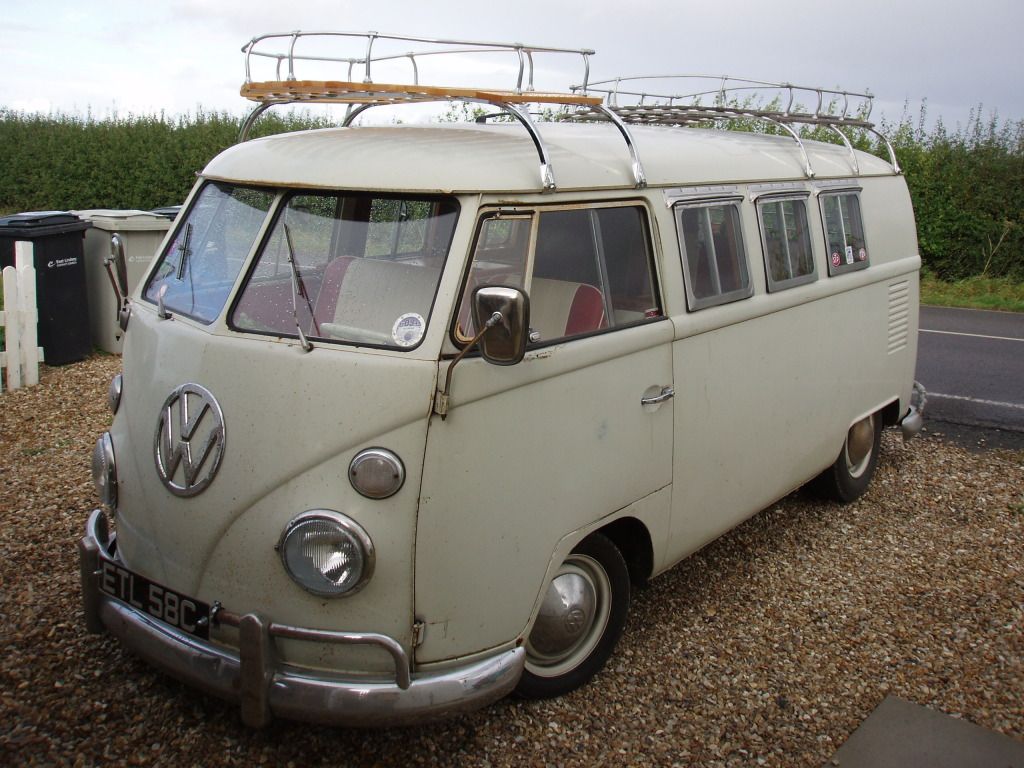 I had always thought that we would have bought a nice shiny van as a first but, this OG paint 1965 including original sign writing just felt right from the first moment we set eyes on her, and patina is definitely firmly set in now. It appears that the van is factory 12v van originally purchased by the Allied Refrigeration Corporation of Pueblo, Colorado who owned it for 6 years. It didn't then change hands until 1995 and came over to the UK in 2005.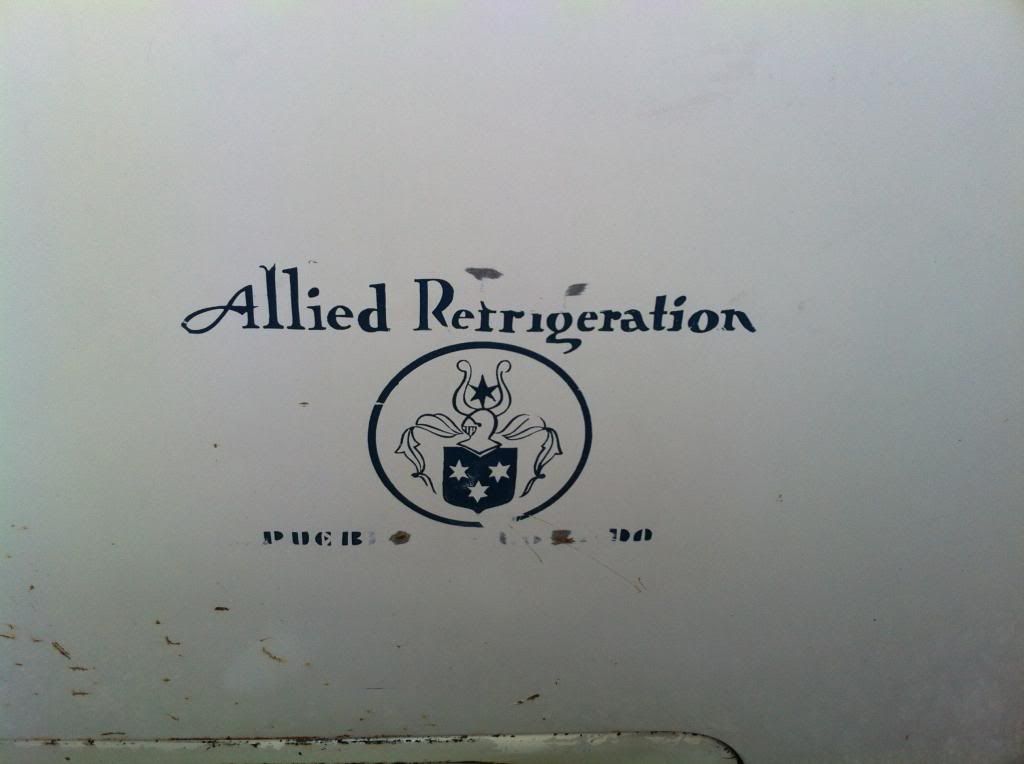 A good test drive which included both breaking down, due to running out of petrol!!! (that reminds to add the temperamental fuel gauge to the list of things to do), a run up and down a local abandoned air strip, along with a good going over of the van and 3 hours later (Boy that man can talk) a deal was agreed
, deposit left and arrangements for us to come back in a months' time, once we had cashed in all our savings to pick up the newest member of the family.
So on the 02 February Choc and I set off at 7.00am early on a Saturday morning to pick up "Lola". The night before I felt like a small child on Christmas Eve!! Given the amount of spares and tools we took with us we resembled a rally support crew, just in case we had any problems on the 2+hour drive back home, however no such issues were encountered and we arrived back at 2.00pm (Boy did I mention that man can talk!!!).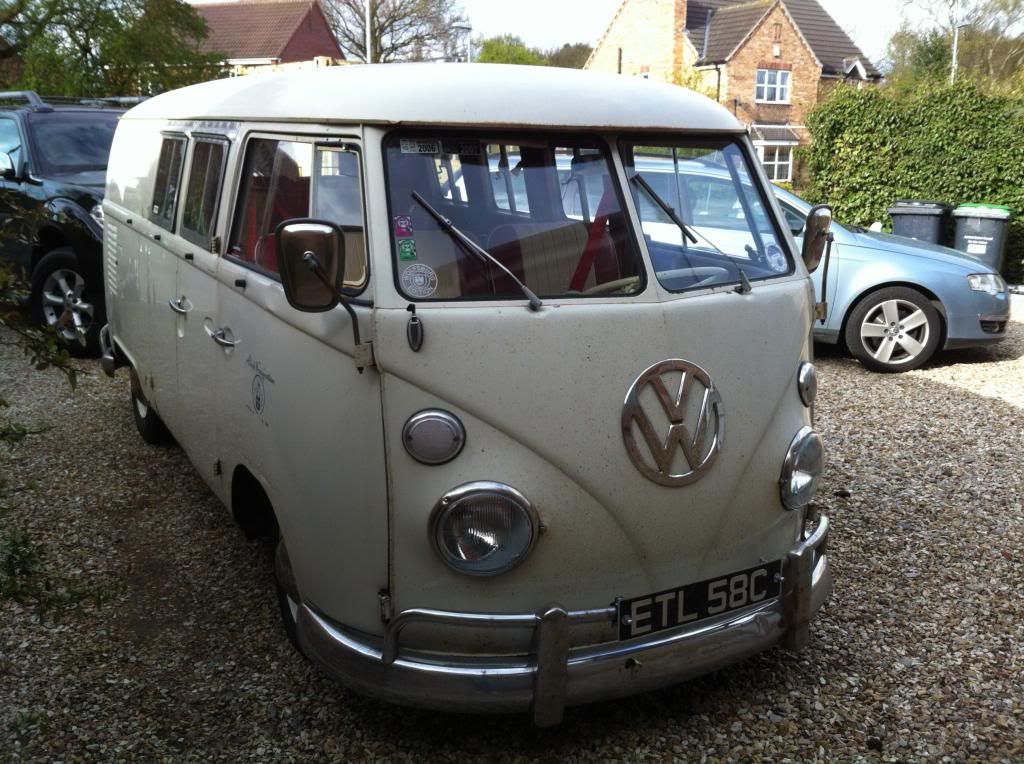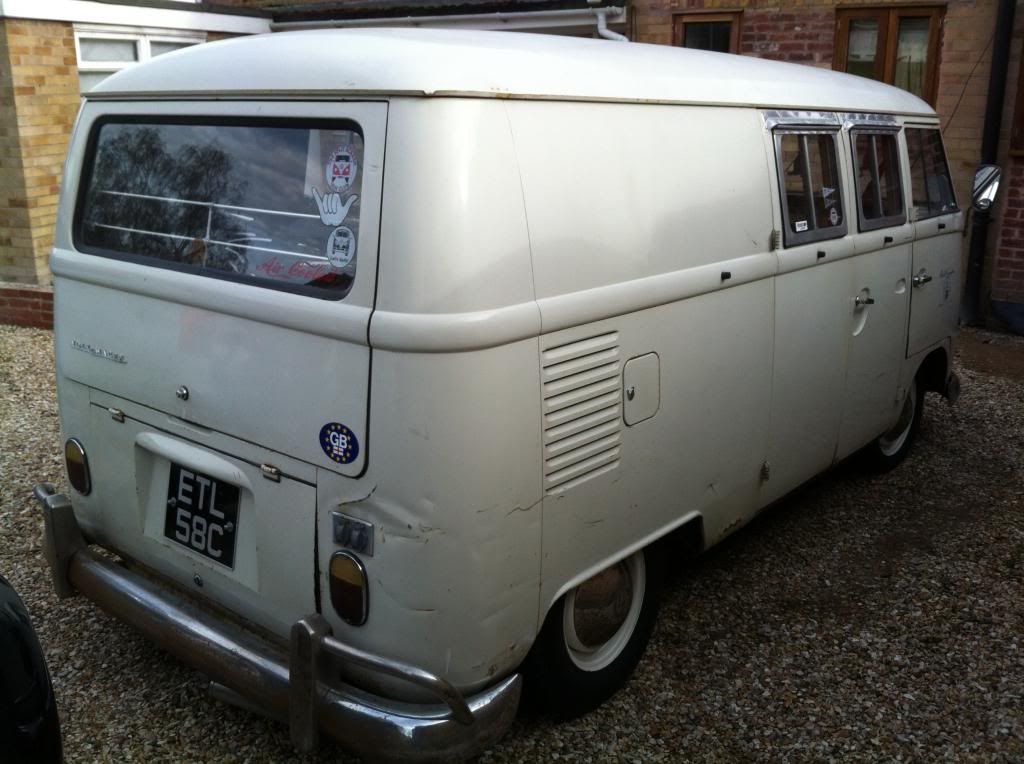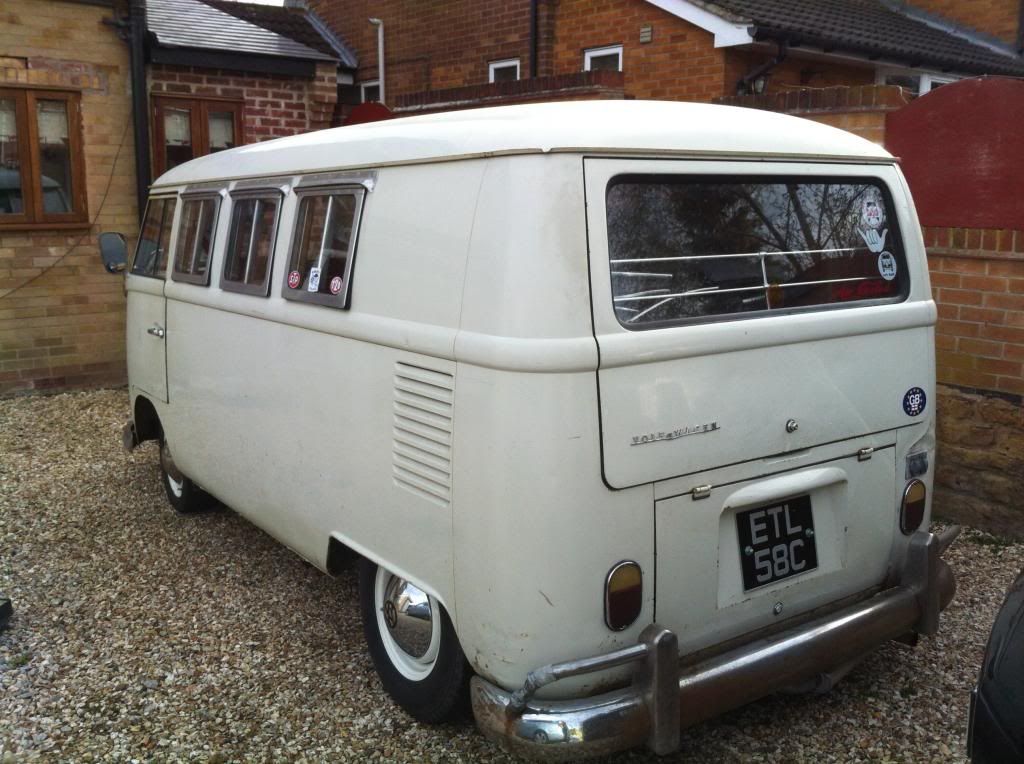 Seriously Brian and his wife are a top couple
and we couldn't have bought our first bus off nicer people. They obviously took to us too as Brian gave us a host of other parts in the sale including 3no. roof racks, (2bows and 3bows), headlights, front bra, Kyam awning and many other parts etc. as he said he no longer had use for them and is now turning to the dark side of Land Rovers!!
So now that we have ETL 58C (aka Lola), what are our plans, well so far we have been to a couple of shows including Stanford Hall (managed to join SSVC in time but never made it to Viccy Farm next year a definite) and Vanjamboree, along with a couple of local classic car shows and generally whenever the sun is shining out she comes, I'm that eager to get behind the wheel I even take her to Tesco to do the shopping!!
We have found a good local specialist in Simon at Absolute VW were he has given her a once over along with some welding for some new period style inertia seat belts obtained from Heritage both upfront and in the back for the our 1 year old and 7 year old, which as you can see has made her very comfy indeed.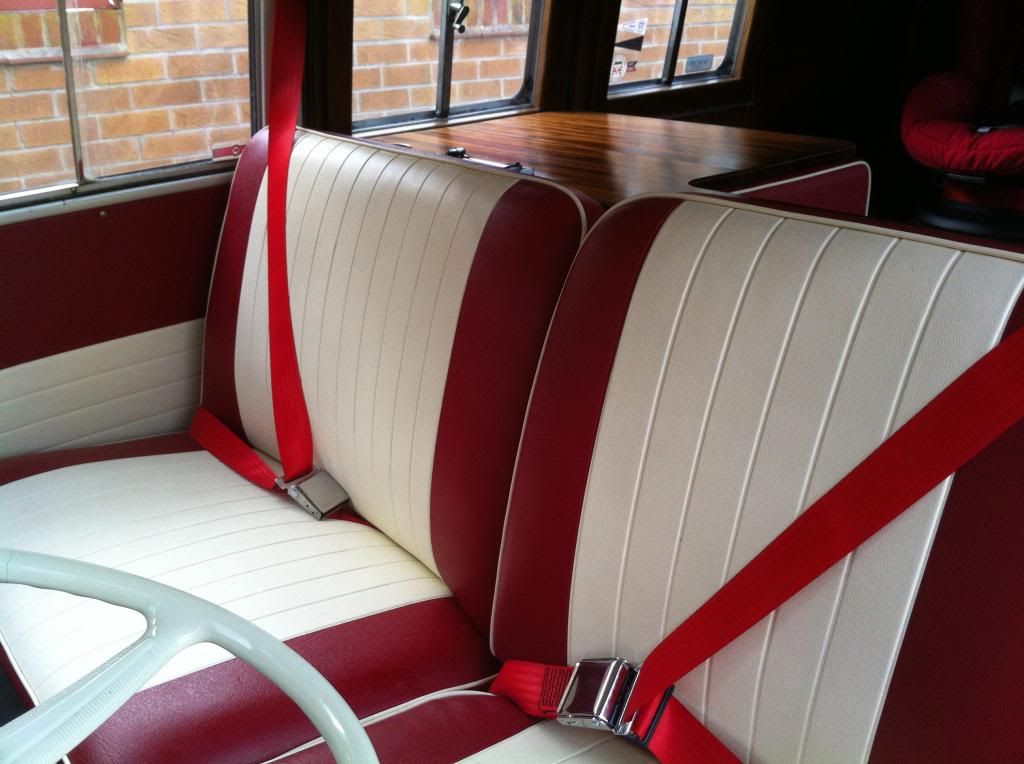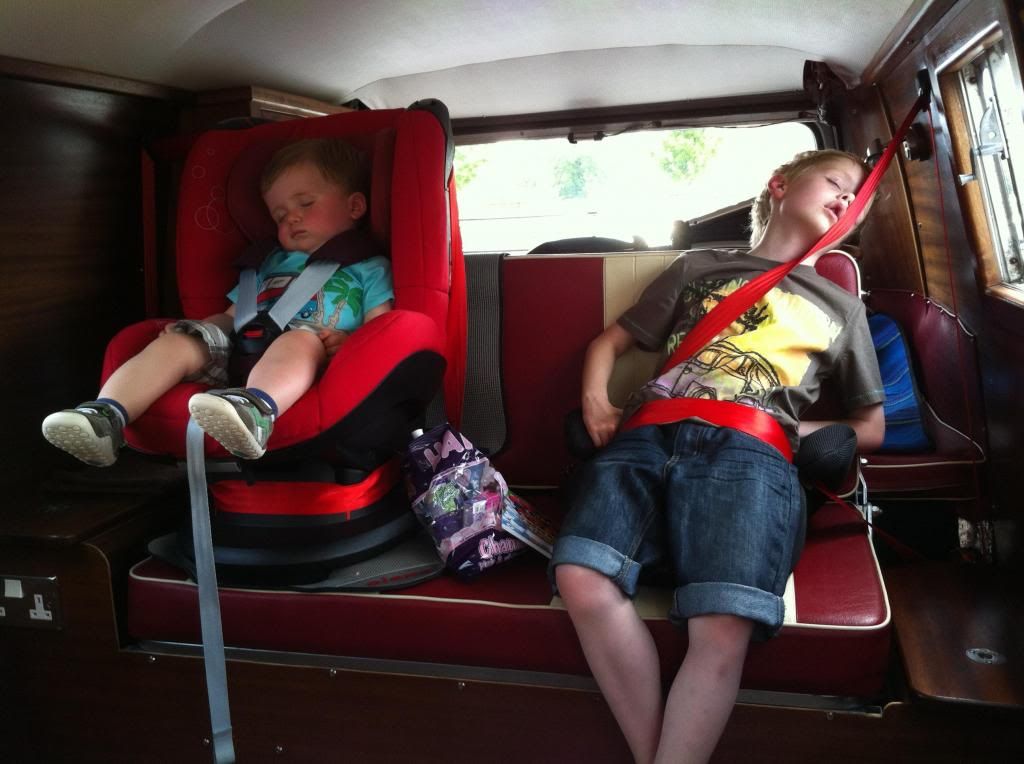 A rolling project she is with external works being required in the future consisting of new shocks up front, new o/s short cill, o/s near cill??, footwell repairs and outer n/s arch. Some of which I shall have a go at tackling myself (with the help of Choc) and the rest will probably be in the capable hands of Simon at Absolute.
Interior wise just need to put some vinyl down, which I think will be a red and white check from Madmatz, which will hopefully match the previously installed Spirit of the 50's interior.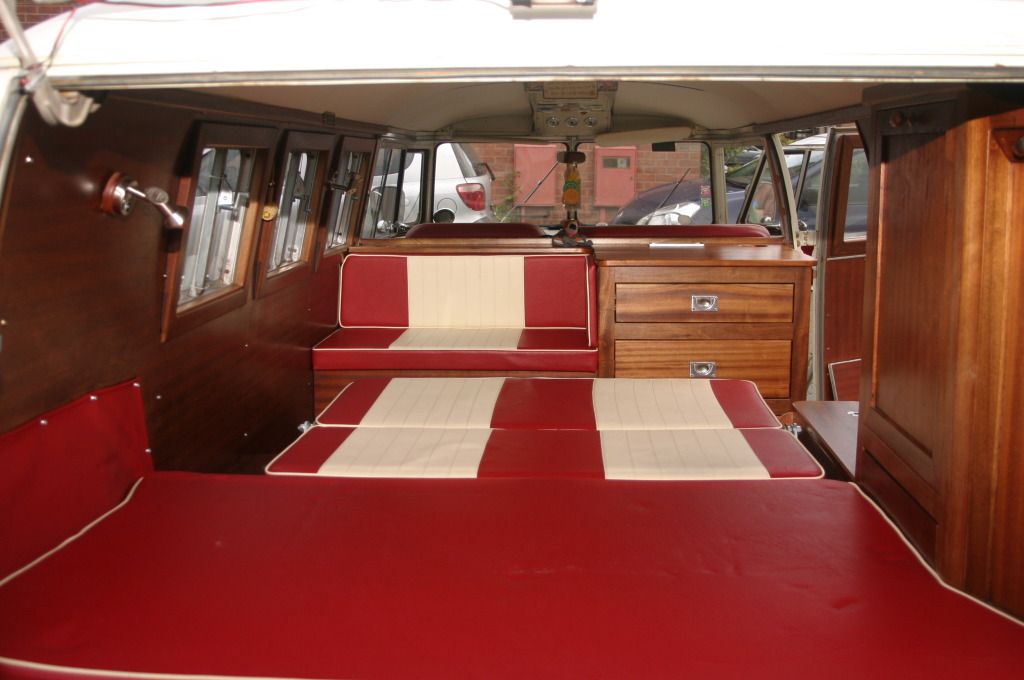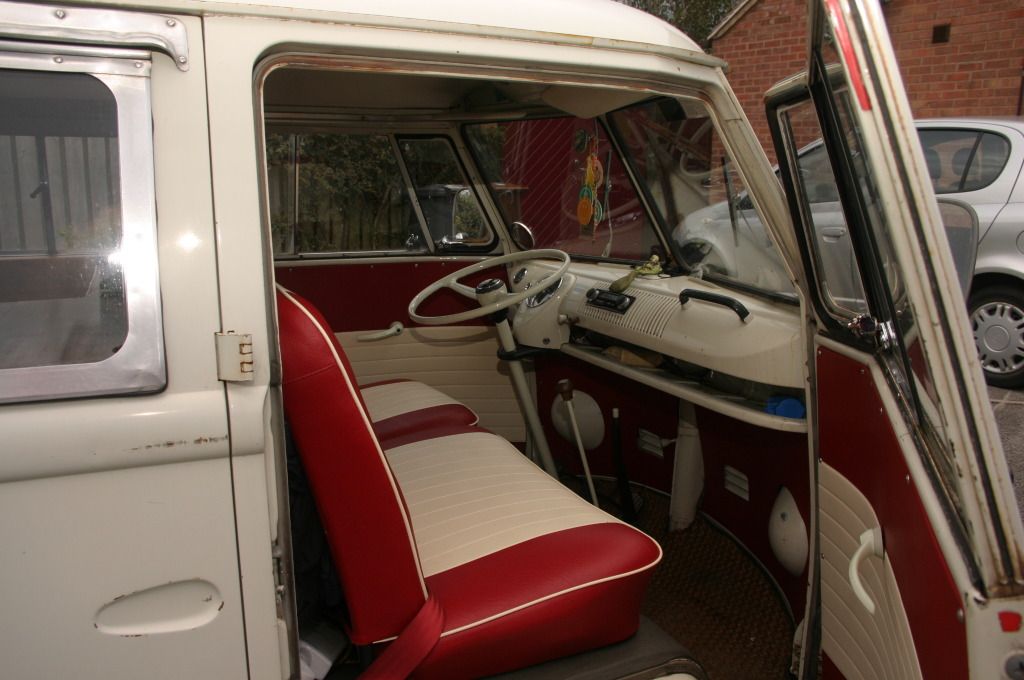 Short term we shall enjoy our van as originally intended and who knows were it will lead
Hopefully we will be off to Skeg Vegas for the day on Sunday, subject to sorting out the current battery issues, (it must be 18 years plus since I last changed a battery!!). Getting a lot of valuable knowledge and inspiration from you guy's and gals on this site so will try and update sooner rather than later.