Hi everyone,
Thought I'd start a thread to detail the restoration of my 1966 Devon Caravette now that work has started. Russ at Just Dubz is doing all the work, he'd already done a few smaller jobs which I was very happy with and I have seen the amazing work he did on a Samba last summer.
The story behind the van is quite interesting - I bought it blindly on Ebay last June. Russ picked the van up and got it MOT'd - I still hadn't seen it and his description of "not too bad for that sort of money" didn't really instill me with too much hope. However when I got back for my summer (I live in Singapore and only spend a few weeks in July and August in the UK) I was very impressed with what I had bought. Our house is in Leighton Buzzard, but we spent the summer driving to and from my parents place in Swanage, Dorset where we spend most of our time and went to Bug Jam for the first time in 15 years. I was loving my van!
Here is "Daisey" - as the paperwork is labelled - back in Leighton Buzzard after 42 years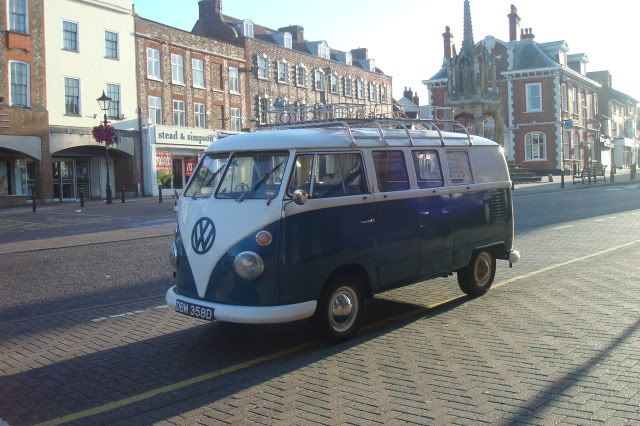 Most interestingly I found a box under the seat with a ton of paperwork - this included the original log book showing the camper originally being sold by Camden Motors in, of all places, Leighton Buzzard! So 42 years on it found its' way back to Leighton. There were also a lot of records from previous owners, detailing services, a new engine in 1976, and lots of SSVC newsletters.
Not knowing which way to go with restoration - i.e. completely stock or a few modifications - I have decided to do everything as per original for phase one.
In Swanage at my parents place