At the moment the head inlets are still blanked. Its got a big -16 hose off the filler neck and then the oil drain to the pump as you said. The gas outlets are a 2 5/8" hoses going forward over the fan and looping out of sight under the base plates. Its been running this setup since before we saw you in Ashbourne. It goes well and everything is dry as a bone in there. when the engine ages a bit I'll add the rocker vents.
SSVC Committee Member

Posts: 20146
Joined: Thu Apr 24, 2003 6:05 pm
Location: under a bus in Hampshire...
Contact:
So I guess the LHS port isn't used currently?
Supplying quality in house designed items plus parts from SyncLink, Kennedy Clutches, & CB Performance. Also fitting service including modifications & mechanical upgrades.
Yeah, its exactly as shown in the photo. The mosscap seams to be fine for now. There's a blank on the other side too.
Well poor old Rita has been laid up for a few months since alternator number 4 went pop after Viccy Farm.
Fortunately, good ole Peter Good came to the rescue and diagnosed that the diode I was using to stop the engine running on was killing the trio diodes after about 500miles each. He's now rebuilt my original Bosch Alternator and I've got to say its a much better fit than the chinese copies. I've also treated it to a Saco Performance pulley which is a thing of beauty. Much better than any of the VW Brazil ones I've been running.
Next on the agenda is fixing the misfire/stalling which has plagued the van from day 1. Its all caused by HT interference on the cam sensor. This is a bit of a bodge, but I've just turned off the sequential injection (where it fires down each port in sync with the inlet valve opening) and gone back to the simpler batched injection (where all the injectors fire at the same time). Its not as efficienct in theory but its blinkin luverly to drive now. Idles as smooth as you like and even with the FK8 cam it pulls strongly and smoothly from 1500rpm. I'll look into the interference issue a bit more soon, the latest DTA firmware upgrade has a few new features to mask off interference so I'll try them at my leisure.
Taking of leisure. I got a new voltage sensitive relay block from Antares. Its a bit butch, but basically it connects to the +ve terminal of the two batteries and a small wire to ground and measures which battery is being charged at any time so it charges the leisure battery off the alternator or charges the van battery if the leisure side is plugged into mains hook up. Simples.
Finally I've designed a detent system for the gearshift on the 901 box. Its got a couple of spring plungers acting on the sides of a bobbin attached the the shift rod. It's totally transformed the van. If anyone else is suffering with a porsche gearbo just get in touch and I can send you the drawings but it looks like this...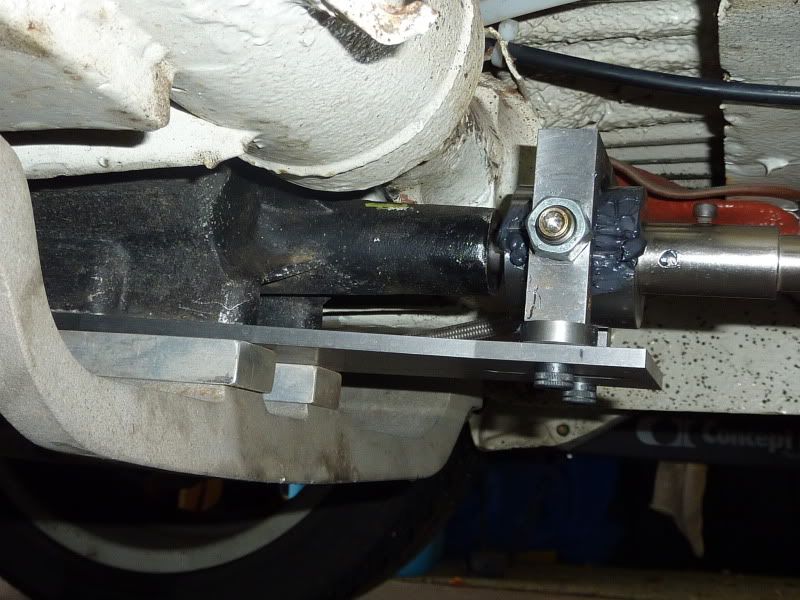 A network first ... Bobleyvision!!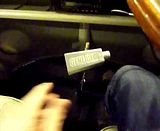 So now its all fixed I'm off to Beddgelert in Wales tomorrow morning for a week followed by driving my sister to her wedding next weekend and then another week in the Peak district! Roll on.
that looks superb mate!
need to get under mine and see if such a device can be fitted
Bob
Just went though your 27 pages and wow what a super star you are what a great engineering mind you have........ The bus looks great and the running gear is amazing well done and you must be so proud of all that great work and upgrades
Cheers
Mark

viewtopic.php?f=8&p=598598#p598598
If you're going to dive in then make sure it's the deep end ! SIMPLES
Hi Mark, hopefully some of my experiences with this bus can help benefit your bus! I'll see you tomorrow night and I persuade you to keep it stock!
Hi Bob

you got that Bus on the road again yet ??

or you saving her for next summer ??

Cheers
Mark
bobley wrote:Okay I'm a post whore today
Hi Where did you get the hinges used on the devon door cupboard
and what material have you used on the cusions
thanks for your help
kind regards John
.
------------------------------1956 RHD Kombi.------------------------------
viewtopic.php?f=8&t=82512
---------------------------------Aka Bucket-----------------------------------
Read the lot 27 pages after seeing you doing a bit on a Devon in another thread. Amazing stuff here top engineering. Great bus.
Always lurking here somewhere