rikki james wrote:Epic people doing epic work, resulting in an epic bus!!! Well done to all involved and rightly so got the results at the SSVC AGM. '
Thanks Rikki and Clymoj.
WHAT A WEEKEND - the stuff dreams are made of!!
What an amazing weekend we have just had. We took our newly restored bus 'Veronica' up to Vic Farm and Stanford Hall. The bus performed beautifully, with no issues at all. We also entered Veronica into the SSVC resto line up and Concours at Stanford Hall.
Both days were just incredible with good sunny weather. We were absolutely thrilled to win the SSVC Van of the Year award, the Best Interior trophy and get placed 3rd in the resto judging.
Any of you who were there and met me in the line ups, saw us pick up Van of the Year or lead the Sunday convoy to Stanford Hall will know how overwhelmed I was to see our restored bus so well received.
Thanks must go from Helen and I to Beresford Bodytech for the resto and paint, to Mark Quarrell and all the guys and girls who helped but most of all to Jersey John TC for all of his help on the bus.
Being awarded the Van of the Year trophy that he made at the AGM was just special. His inspiration, hard work and skills to turn out or Retro Devon Spaceway interior are just beyond words. Huge thanks go to John and family for helping to make it possible. But somehow these words are not enough.
Thanks also to all of you that came over to say hi and the group that we were with. Celebrating the bus's 50th and the SSVC win like this with good friends was just brilliant.
And finally a big well done to Alan Schofield for his beautifully restored Samba that did so well at Stanford Hall, winning the Splitscreen classs and Restoration of the Year with SSVC. Well done Alan you are a gent with a great Samba.
It was lovely to just get used to everything and sleep in the van for the first time in 14 months – this time down in the middle of the bus, rather than up on the back on our old Dormobile rock n roll type bed. Waking up in the bus with the new interior and décor was awesome – just SO gorgeous. It made us feel like the Bus was once more the Devon she used to be years ago.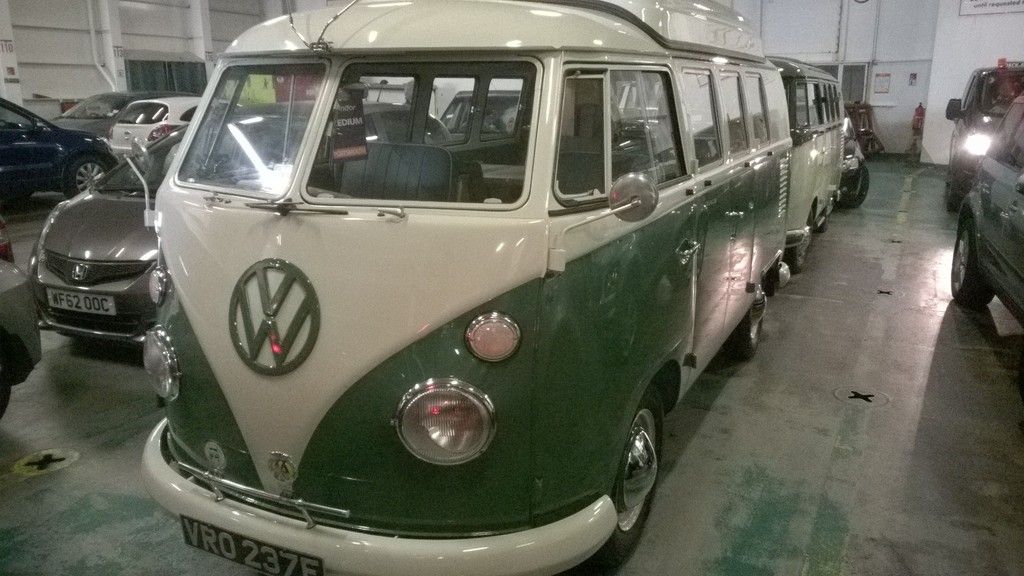 Heading for home - the long trip to Stanford hall starts with the ferry with John TC from Jersey to Portsmouth
First night in the 'new' bus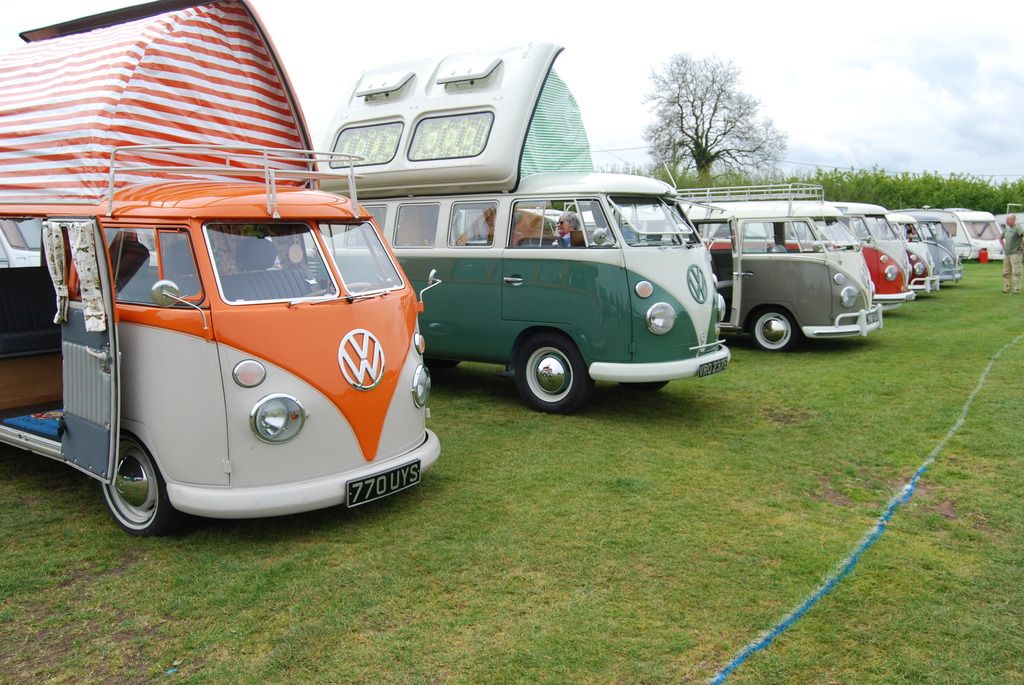 The SSVC Vic farm resto line up - what a great display this year
Happy 50th to Veronica (the bus), Carl and Nick
Proud as punch