Registered user
Posts: 370
Joined: Tue Oct 07, 2008 7:44 pm
Location: north-norfolk/brighton-ish
fantastic news!
_______
aka Tree
---
Happy days
---
Registered user
Posts: 14
Joined: Fri Apr 25, 2008 8:04 pm
Location: Worthing
Sorry for not replying to you all sooner.
Basically my van was found by chance. A builder was under investigation as houses he was renovating were getting burgled. When the police busted the builders house, they found my van in his garage. Church lane Ashington. THe Vin plate was removed and vin plate making equipment was also found. However I have since been advised by the police that he is going to get away with it, he claims he was storing the van for a friend. He will not give the name of the friend to the police. I have no idea why he didnt get rid of my van very odd, but im very lucky. So Trevor (thats my vans name) as from today is back on the road, and wants somewhere to go this saturday. Any events that arnt miles away, please suggest.

Thank you all for keeping a beedy look out,
I'll see you soon.
Also does anyone know of anyone who has a lock up I can rent.
Vx
Miss Victoria
---
Try your builder!! He seemed to do a good job of keeping it clean!!
I love that this story has a happy ending. Will keep an eye out for Trevor at the shows

Brazilian 15 Window - Totalled at Tilbury
Resto Thread
Dubtricks
The Blue Campervan
---
great news and well done on getting it back where it belongs
---
Registered user
Posts: 1465
Joined: Tue Apr 29, 2003 8:45 pm
Location: From ear to paternity
I've bought him back
I hope you mean 'brought'!
He would get more (still fook all) for the burglaries. The criminal justice system sees car car crime as very low down, even if it breaks your heart and your bank. And he would have served the sentences 'concurrently', at the same frigging time. What wonder thought that one up?
I notice they found Cameron's bike pretty quick though.........
Congratulations.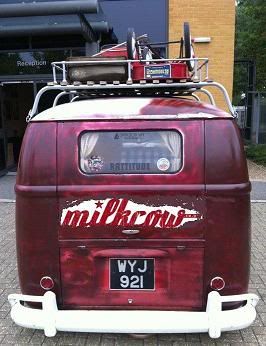 ---