Restored 1967 RHD Walkthrough for sale -
only selling due to 1) need the space and 2) daughters wedding costs...
Lot of money gone into this over the last 4/ 5 years
Priced to go at £xx,xxx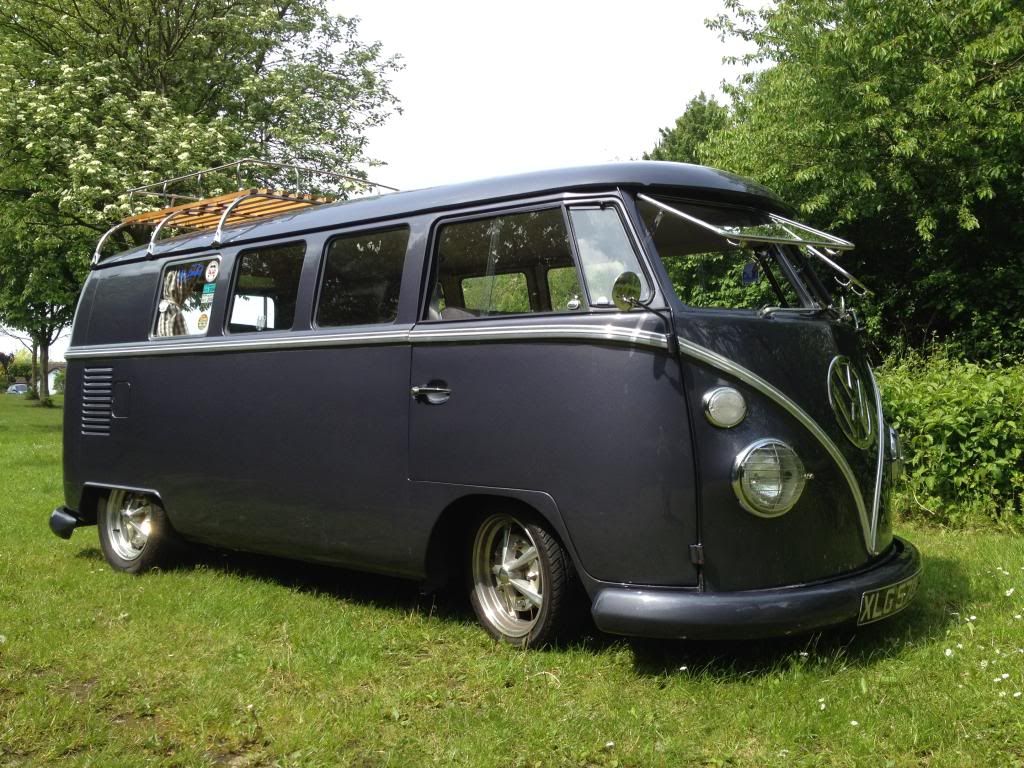 11 Window walk through
Full restoration 4 years ago ( Taylors Campers )
Replaced - rear arches / front gutters / long panel etc
Work carried out by Pete Moore and Chris at Taylors ( Pete now running Muddyfields Campers )
Resprayed Landrover Auckland Blue ( grey in dark / blue in the sun )
Stored under cover since purchase
solid underneath
MOTd in May ( with no advisories )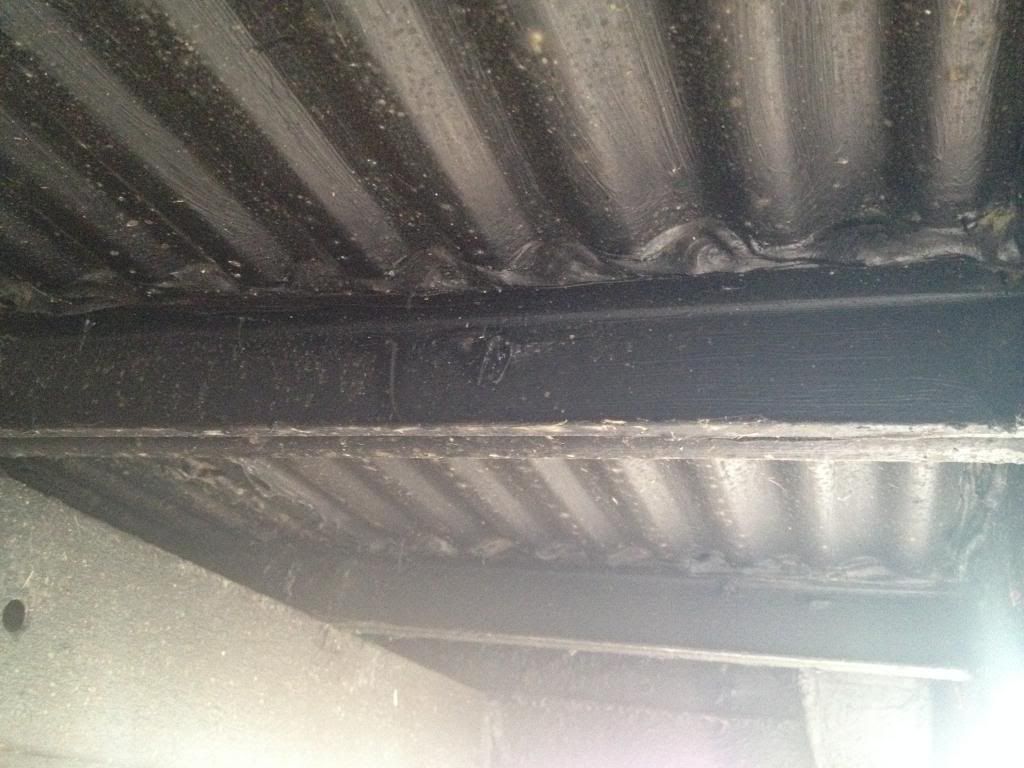 Suspension and running gear -
all work performed by T2D
Narrowed and Adjustable front beam
Raised and refurbished Steering Box
IRS set up rear
Dual circuit servo brakes ( stops on a sixpence )
New Front CE Safaris and Butty seals
Porsche headlight grills ( AAcs )
Refurbed speedo ( Peter Banks )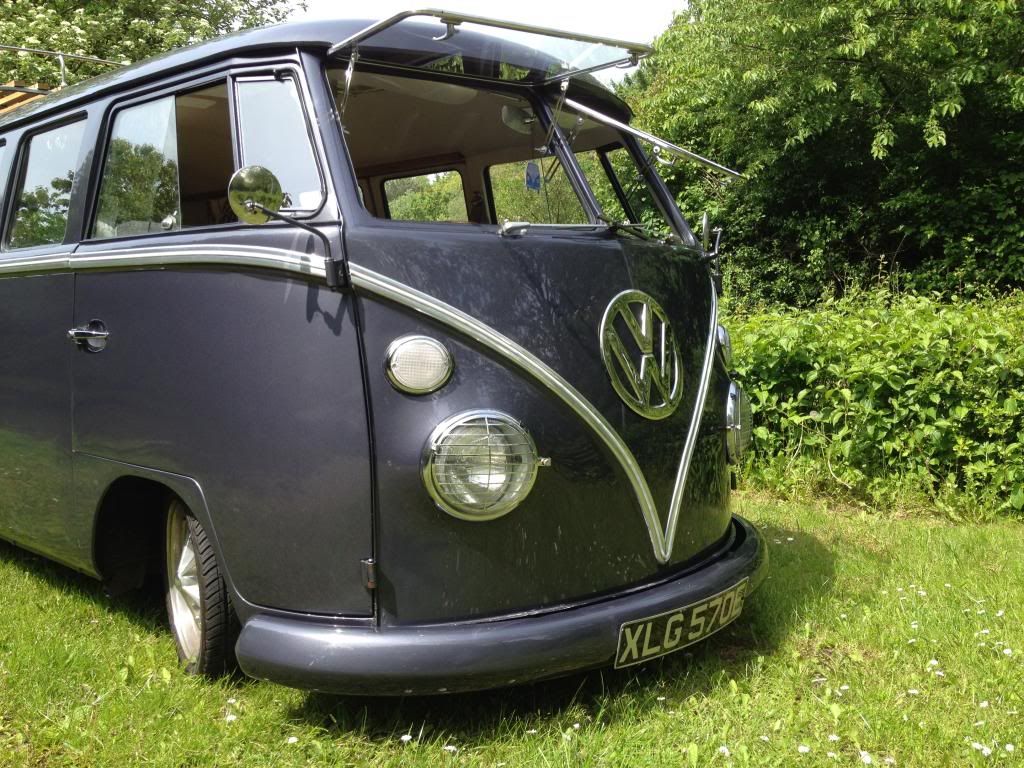 Engine -
1641 Twin port maintained by Pete at Muddyfields
New Twin Webers and tinware 2013
Fuel lines replaced 100 miles ago
SCAT shifter
Interior -
full SJH Joinery solid light oak camping set up
R&R bed
Waeco compressor fridge ( super efficient )
Smev hob ( unused and still unconnected!) and sink
solid wood floor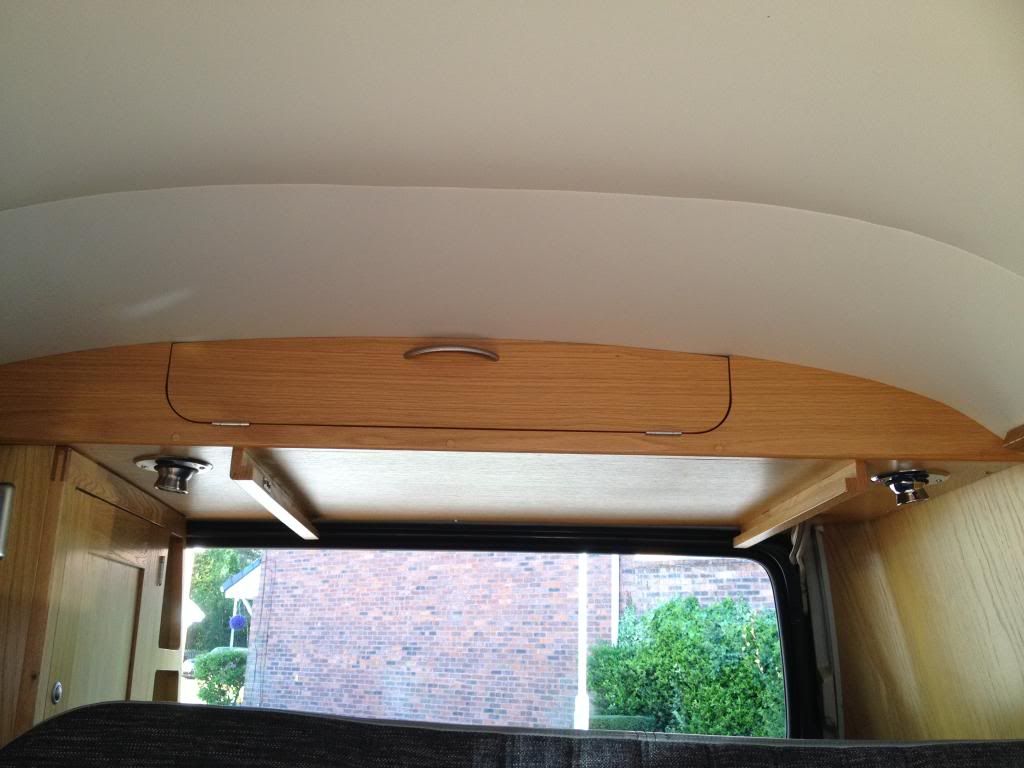 240v Hook up
Upholstery by Ant at Dubholstery in grey cloth
New and unmarked headlining ( Dubholstery )
Tool box safe ( VW Jim )
Radar style wheels 165 front 185 rear all very good condition
Billet aluminum drinks holder and door handles ( AACs / MCJ )
Solid wood steering wheel ( MCJ )
Stereo - Kenwood head unit including ipod link / Bluetooth / Focal subwoofer / Alpine Power Amp / - professionally fitted
waxoyled 18 months ago
3 bow roof rack
front and rear external window covers
solid oak buddy seat ( not shown in photos never used )
bus cover
Bad bits : paint crack on one rear corner corner and also one cargo door ( see photobucket pics ) and wiper spindles don't hold disengagers well enough so wipers removed ( safaris and RainX used ) - wipers included.
In summary no expense spared over the years. Intended as long term camping keeper bus but time and circumstance conspires against me..lots more probably to describe. All receipts in file ( painful to look at - over 30k invested !) Priced to sell and would appreciate no dreamers / tyrekickers - not desperate to sell so no silly offers will just store it if it doesn't go.
Based in Warrington , Cheshire
over 80 pics on Photobucket here if link works -
http://s1108.photobucket.com/user/ArchS ... plitscreen
Forgot to add :
CSP disk brakes at front - type 3 drums rear
New heat exchangers 6 months ago