Registered user
Posts: 462
Joined: Sat Jul 29, 2006 3:57 pm
Location: hastings england
Contact:
Would be fun to have a full set of these ..................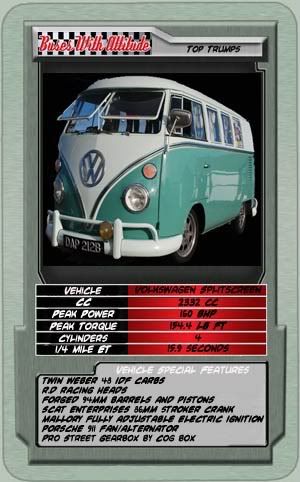 OOOPSEY the DR Pepper Bus
Click Here To Look At The Dubnuts Forum
---
SSVC Committee Member

Posts: 19990
Joined: Thu Apr 24, 2003 6:05 pm
Location: under a bus in Hampshire...
Contact:
Supplying quality in house designed items plus parts from SyncLink, Kennedy Clutches, & CB Performance. Also fitting service including modifications & mechanical upgrades.
---
1959 OG paint Mango bus with curved Devon interior.
http://m.youtube.com/watch?v=bEVPMkZUEes
1955 Dove Blue micro bus
1959 Canadian Mango micro bus
1970 Porsche 914
2004 Harley Davidson Road King
1959 MGA Roadster
---
that's a brilliant idea
except cylinders would have to be windows, at least with 13 my bus would have a chance at winning
---
Registered user
Posts: 462
Joined: Sat Jul 29, 2006 3:57 pm
Location: hastings england
Contact:
Wellsy wrote:that's a brilliant idea

except cylinders would have to be windows, at least with 13 my bus would have a chance at winning
good idea
OOOPSEY the DR Pepper Bus
Click Here To Look At The Dubnuts Forum
---