Hello there people!
Welcome to my story. There will be some jargon along the way but there will be lots of photos and I think it will be worth it. give it a try.
I'll do it in stages so bear with me 
I'm a SSVC virgin so I'll start by introducing myself.
Hi. I'm Colin, 24, from Banbury and I currently own a 69 bug . I re built her two years ago for a charity event that saw us (4 others in my team and another bug) driving to the Arctic Circle in Norway whilst doing a whole heap of challenges on the way. She, 'Julie' to all but the sane, is now covered in sponsorship from said event and so sticks out like a naked sunburnt man in a snow storm. Some people think hot, some think cool, some think I'm a weirdo.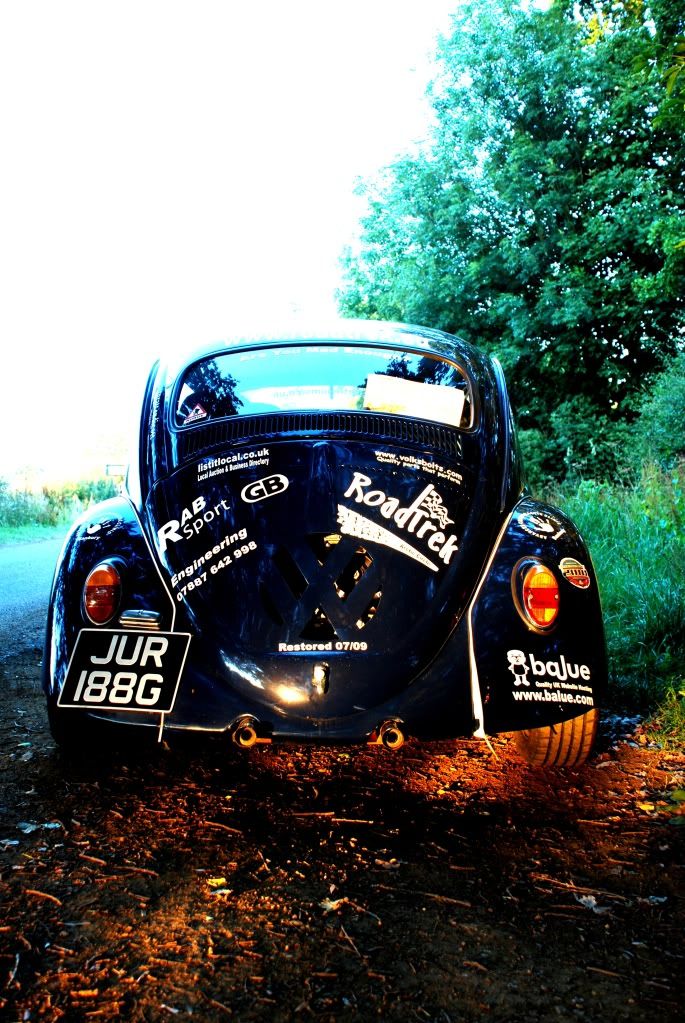 Anyho.
This story is how I have come to own a second something and should follow the slight adventure that I have and already, aswell as the one that is coming up.
I like to travel, six years ago I was in Australia for a year, I have seen lots of Asia and Euroupe and quite some of Africa but until last year I hadn't seen much of the states.
After a bout of terrible man flu and serious hospitalization I decided enough was enough and I needed to buzz off and see some more.
It wasn't long before the tickets were booked and I'd raided the piggy bank for 'rainy day savings' Plan was six months in the states, some in Canada and if I could get up to Alaska, brill. I had just about enough funds to cover a shoe string budget. Not a new pair of shoe's strings but perhaps second generation hand me downs. Still, enough just
Fortunately I had booked a tour across Canada and most of the stuff was included so that saved some pennies. Unfortunately one of the items not included was the alcohol.
I, the English man, quickly teamed up with an Irish man and a Welsh man (seriously, no pun intended) and between us I think we managed to help many a bar tender into early retirement. This did well for our spirits (pun intended) but did little for my strings that had now become threads.
So, the tour ended with us being dumped in Vancouver, a lovely place, very well off area, full of students and has a girl to boy ratio of about 5-1. Naturally it was a terrible place to be and I didn't go out and drink every night whilst being surrounded by swooning teens fascinated by my accent. I refer you to the film 'love actually' The slightly bonkers character who goes over to the states with his mate, the one called Colin who sings, and I quote,
"MY name's Colin, and I have a biiggg kno…….."
You get the idea. Still, this pushed the budget even further but I still wanted to get up to Alaska, how do you do that when your daily budget just about covers a banana and a pot noodle?
You hitchhike ofcourse!!!
Now I had never done this before. Ever.
I can tell you however, not only am I still alive but it was nearly freak free and I had the most amazing trip of my life!
'fast forward about 2 months'
I'd hitched nearly 4000 miles all around Alaska, got into many of the parks, spent 4 days up the Yukon river with some Athabaskan Indians, met countless amazing people and a few stray grizzly bears.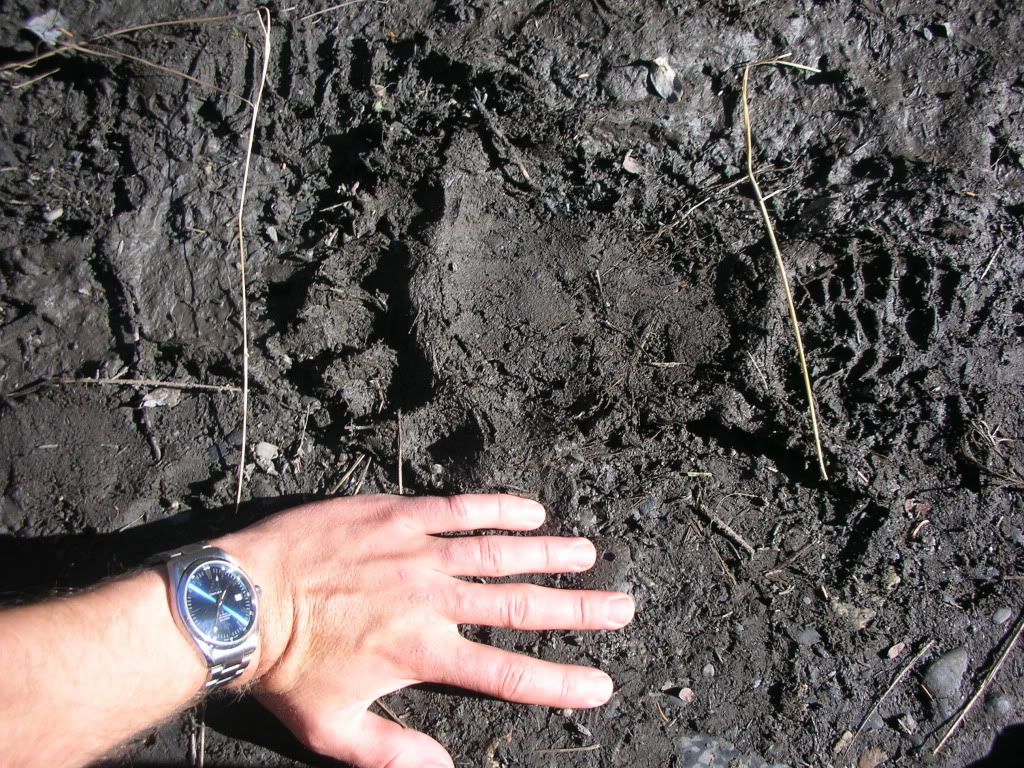 Truly satisfied, I'd decided to head back on the 2500miles down to 'the lover 48' when I was offered a place to stay for the night in a place called Glenallen. Getting close to -5 on some of the nights now and the tent was getting tedious so I accepted.
The following day, some of their friends were heading south down a 100 mile 'dead end' to a place called Valdez, the photos had looked amazing so I thought it would be a good thing to do and so we set off, without my bags, to go on a day trip.
With a rendez vous time set of 6pm, I set out to go and explore. What an amazing little town it was, surrounded by snow covered mountains, beautiful but very quiet at that time of year (October)
Suddenly (cue cheesy music) out of the corner of my eye, I noticed something looking at me, I turned and thought,
'that looks like,,,,,,
My eyes adjusted to the failing light.
"It is you know, I think." Now I'm talking to myself.
I started to walk towards the pair of eyes that had caught my attention. My heart started to flutter, by the time I had realised what I was doing my gentle frolic had pratically turned into a sprint.
Was I being deceived!???
Then I slowed and stopped, I stood, motionless in the breeze… wow, this is getting soppy.
Sat infront of me, in the middle of a parking lot, with no lights, torn, wonky, airless tyes and tinworm crawling up the sills,
sat a 1966 wesfalia.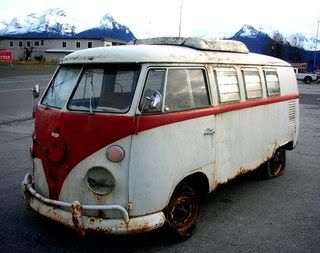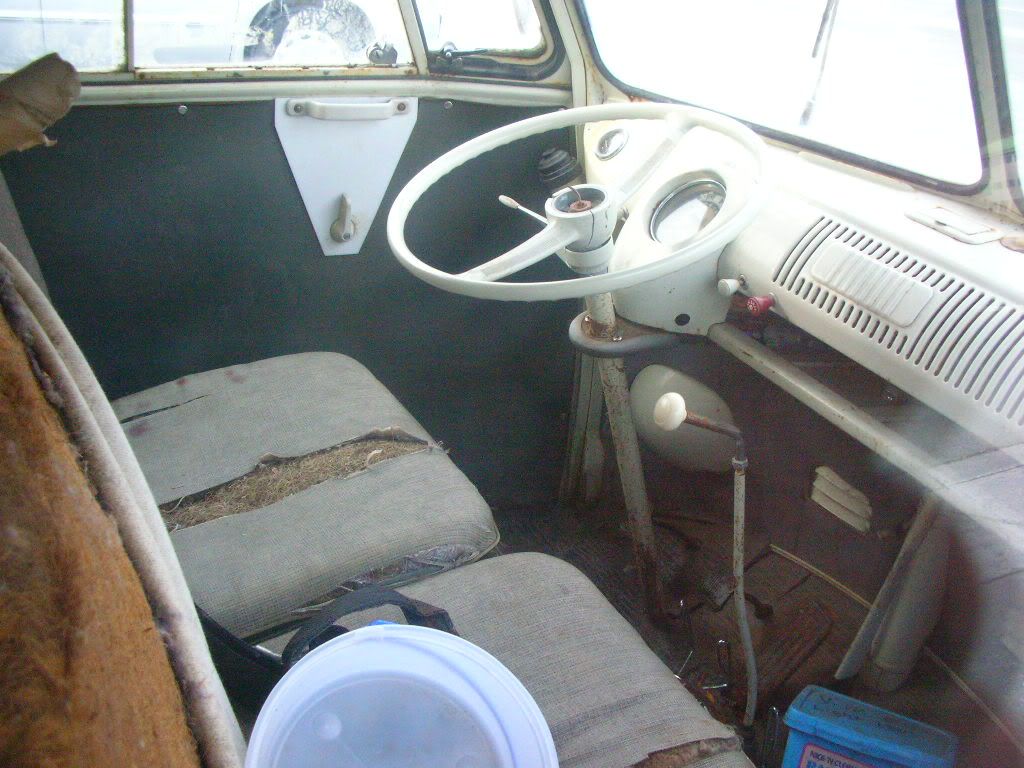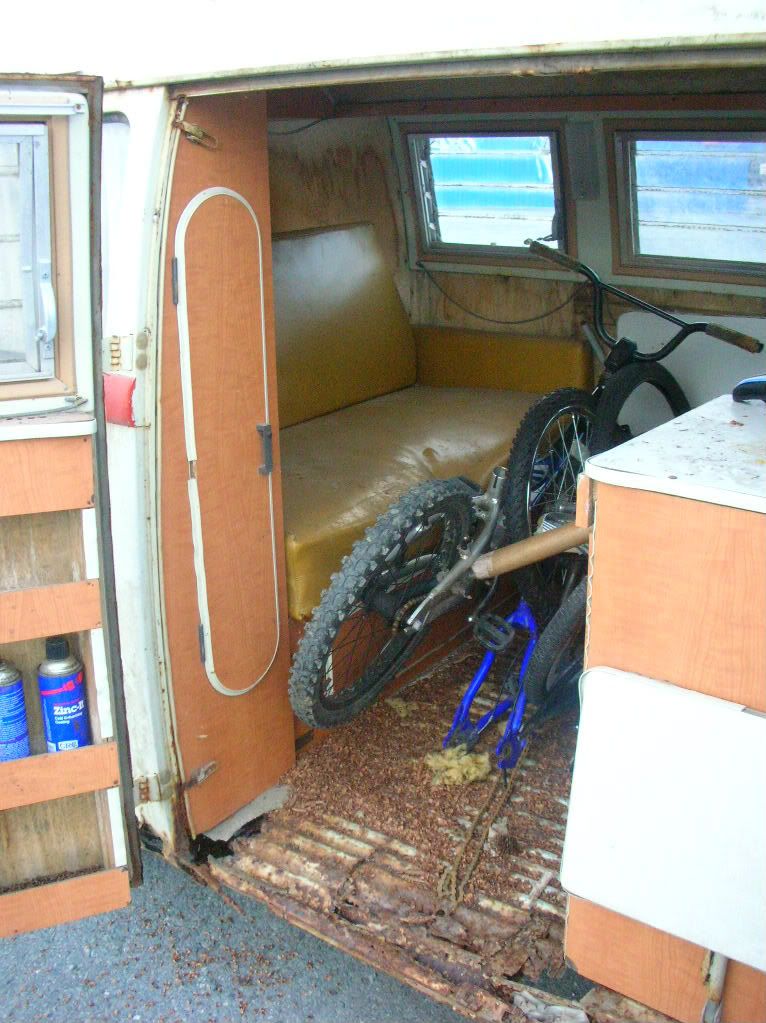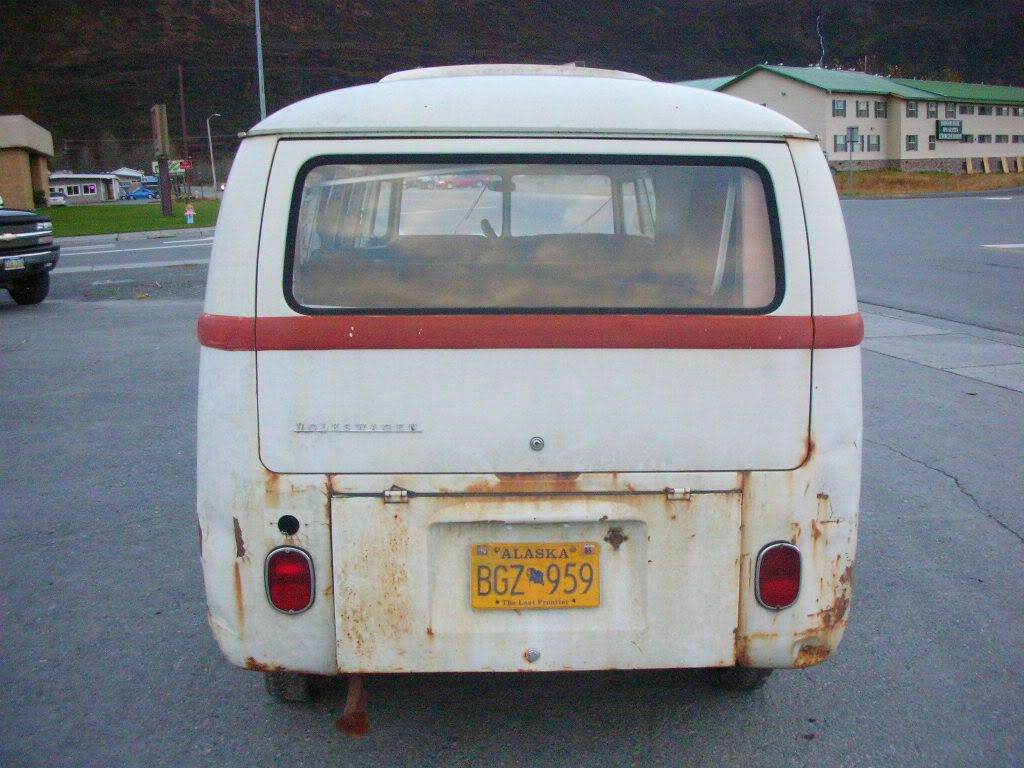 TBC