I don't recall there ever being a thread on this subject, so I thought I'd start one.
I'm a bit of a buffer (you know the type; pipe, slippers, mug of cocoa), and one subject that really intrigues me is the early days of VW Motors Ltd. (GB). The subject has been so poorly documented and finding information on it is very difficult.
The company Volkswagen Motors Ltd. was founded in London in January 1953 and the first 'official' VWs arrived in London in June 1953. (Before the founding of VW Motors, 3 RHD Beetles had been ordered for UK delivery in 1952- one of these still survives today). A total of 945 VWs were delivered to VW Motors in 1953. 944 of these were RHD Beetles, only 1 was a RHD Type 2. The factory was not yet tooled-up for the volume production of RHD buses, but they could be manufactured to order. Here's an original VW Motors price list from September '53…
Buses weren't officially available to the British public.
For the UK, that all changed some time around April 1954 when Buses were added to the UK pricelist…
…and in 1954, VW Motors UK sold 786 Type2s.
For 1955, I don't know the exact figures for UK RHD Barndoor sales, but it's in the region of 300.
Therefore, in total approx. 1100 RHD Barndoors were sold in the UK.
So this brings me to the questions. How much remaining information is there out there of UK supplied RHD Barndoors? Over the years, I've seen very few photos, stories etc, but I'll list all the evidence I can think of below.
The survivors:
AVX. Ex-Chris Clarke. Now lives in Czech Republic.
KAV. Ex-SteveGooge, now Grant's bus…
OLL. Deano's DD.
OSL. Ex-Chris Clarke. Now lives in California.
KSA. Currently languishing in Hampshire.
MN. Kenny's van that he's owned since 1the early 70s!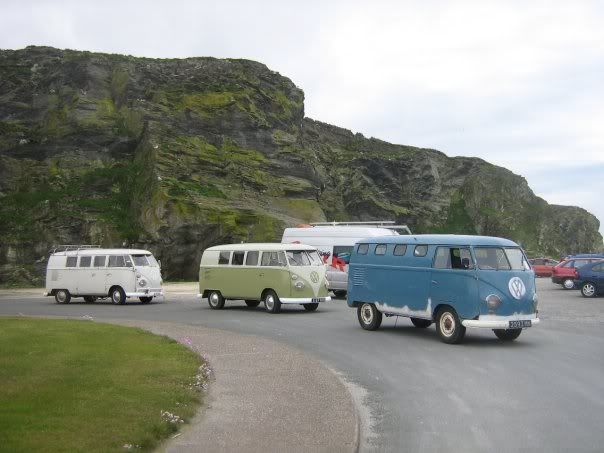 MBC989. Alex's Kombi in Hants...
That's about all the survivors that spring to mind at the moment.
So what about photographic proof of vans that did exist. Here's about all I can find…
HTL831 in Blackpool ('54 Dlx)...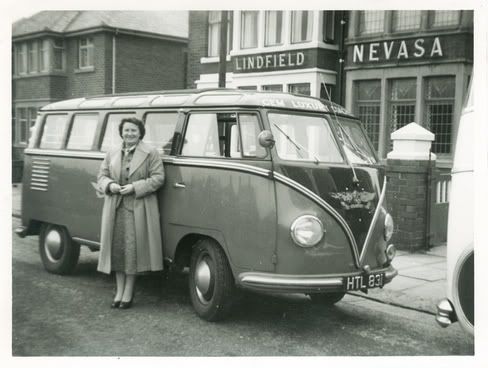 Pic from Mike.
KBLXXX in N.London ('54 Dlx)...
KBL245 in N.London ('54 Micro)...
GRS79 in Scotland ('54 Panel)...
Pic from Jules Hunt.
XXXXXX in Ladywood, Birmingham 1957 ('54 Dlx)...
There was also a couple of family camping pics taken in the early 60s featuring a 5-digit plate RHD '54 (CPV 71)...
OYS 127 BD RHD Ambulance first registered in Aug 55. Possibly a UK original RHD 'special order' bus. First registered Aug '55...
Also, two engine lids exist with original UK registrations on them... KRD 860 (1955) and PXF 630 (1954).
Is there any more 'evidence' out there??